Features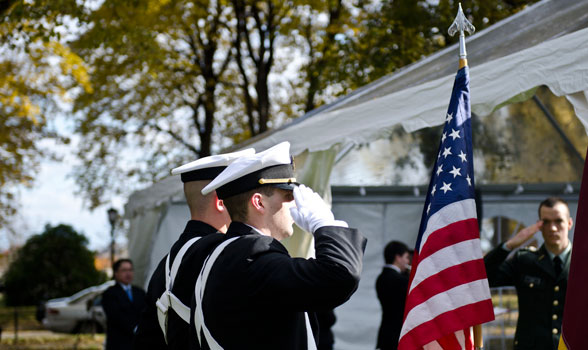 Eagles will be celebrating Veterans Day on Monday, Nov. 12.

Each Veterans Day, the University pauses to honor and celebrate its servicemen and women. The Boston College Veterans Alumni Network will sponsor the 12th Annual Veterans Day Remembrance Mass and Ceremony Nov. 12. All alumni, veterans, and members of the BC community are invited to Mass at St. Ignatius Church, followed by a Remembrance Roll Call Ceremony at the Veterans Memorial on the Burns Library lawn. Lt. Col. George Harrington '80, MA ARNG commander, 79th Troop Command, Homeland Security, will speak.

Register here.

BCVAN: the Resource for Veteran Eagles

The Boston College Veterans Alumni Network (BCVAN) was formed to share news, provide resources, and sponsor events geared toward BC's brothers- and sisters-in-arms.

All identified Boston College servicemen and women are automatically enrolled as members of BCVAN. If you have information about BC alumni who are currently serving or have served in the armed forces, please email BCVets@bc.edu with the veteran's name, class year, branch of service, and email address.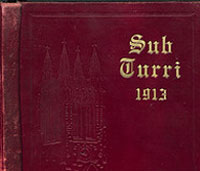 First published in 1913,

Sub Turri

is now online.

The Boston College Libraries have recently completed a digitization project making almost all editions of Sub Turri, the BC yearbook, and the Newton College yearbook available online. The digital editions start with the first volume and go through the 2005 edition.

View the collection.


Gardening Project Wins NSF Grant


Lynch School of Education Professor G. Michael Barnett will help Dorchester youth grow and sell vegetables. (photo by Lee Pellegrini)

Thanks to Lynch School of Education Associate Professor G. Michael Barnett, students in Dorchester, Mass., will learn to use innovative, soil-free hydroponic gardening technology to grow fruits and vegetables and then sell the harvest at local farmers' markets.

Barnett has been awarded a $250,000 National Science Foundation science education grant to launch the largest gardening initiative ever for Boston youths. Read more.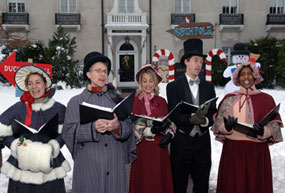 Winter Wonderland brings BC alumni and their families back to Newton Campus each holiday season.

Christmas is coming—and we at the Heights are getting ready! The annual University Christmas Chorale Concert will be held on Dec. 2, in Trinity Chapel, followed by a reception in Stuart Hall.

The BC Alumni Association welcomes the University community to share in its beloved family-friendly tradition, Winter Wonderland, Dec. 8. Festivities will include strolling carolers, crafts, entertainer Johnny the K, photos with Santa, a live petting zoo, and horse-drawn carriage rides.

Register for the Christmas Chorale and Winter Wonderland.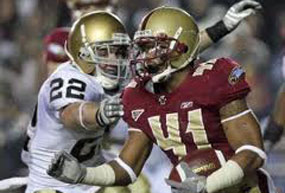 Eagles take on the Fighting Irish Nov. 10 at Alumni Stadium.

When the Fighting Irish come to Chestnut Hill on Nov. 10, Eagles everywhere will get their maroon and gold on. Keep an eye on the Eagles' website for kickoff time, and find a local game watch with your fellow local alumni.

Winter Sports

Basketball and hockey tickets are now on sale! Visit the BC Athletics website for rosters, schedules, and tickets.







This Month's Soaring Eagles



The jersey of Lou Montgomery '41, BC's first African-American football player, was retired at the opening game.

Read more.



Kristin Groos Richmond '97 wrote about founding Revolution Foods in The New York Times.

Read more.

Ryan McCarthy '09 remembered Lynch School of Education Dean John Cawthorne in a recent Huffington Post article.

Read more.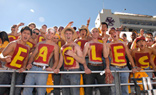 What's your favorite tailgating memory?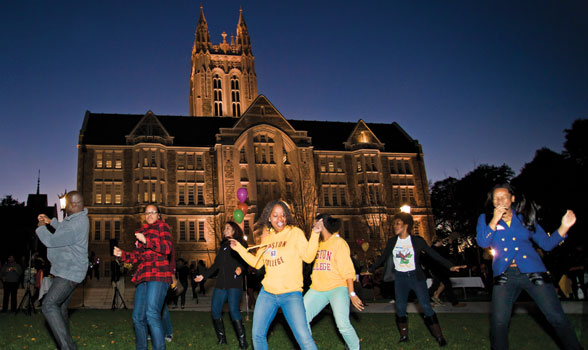 Michael Davidson, S.J. (far left), resident minister in Edmond's Hall, did the "wobble" with students during the AHANA BLOCK (Building Love of Community through Knowledge) party on newly green O'Neill Plaza.

Campus Beat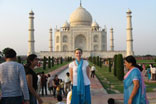 Brooke Loughrin '14 made history last week as the first-ever U.S. Youth Observer at the United Nations.

Read the article