150 on the Road in Boston
Boston College alumni, parents, and friends are coming together around the country for the 150 on the Road service projects, packing meals for hungry families in Africa. Read more




Smaller Pool, Better Applicants
A new strategy has resulted in a smaller, but more serious, pool of applicants for admission to BC. Read more

Arts in Bloom at the Heights
The Heights comes alive with music, dance, art, and more during the BC Arts Festival. Read more



Young Eagles Honored
Three dedicated volunteers received awards for their service to BC at the Celebration of Young Alumni Service.
Read more

BC Media Rep Wages Courageous Battle
Dick Kelley '87, MA'89, who has guided Eagle basketball media coverage for two decades, received an award honoring his noble fight against a terrible opponent: ALS. Read more



BC Club Celebrates 15 Years
Without the work of one dedicated Eagle, the BC Club might never have been founded. Read more

This Month's Soaring Eagles
For almost 20 years, Brian Kiley '83 has been the man behind Conan O'Brien's jokes.



Juan Arteaga '99 received the BC Alumni Ignatian Award recently.


Elizabeth "Betsy" Fountain '09 led a group of students on a service trip to Jamaica.


BC Bubble



Stokes Hall is now open for classes, and St. Mary's Hall is undergoing restoration. What would you like to see BC build or remodel next? Share your ideas with us.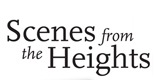 View this month's scene