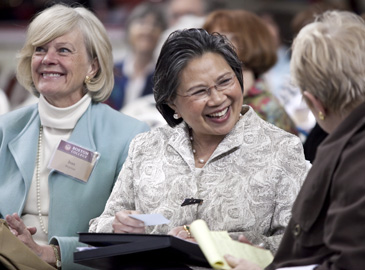 Joyful Journey – AARP President Jennie Chin Hansen '70, H'08, center, keynote speaker at "Living the Journey: Spirituality for the Second Half of Life," chats with a participant. Nearly 900 attended the daylong conference in Conte Forum April 10. At left is Jean Weyman, PhD'96, P'92, '04, '06, assistant dean for continuing education, Connell School of Nursing. You can view conference keynote addresses and other presentations at www.bc.edu/journey.
Homestretch for 2010 Alumni Participation Challenge
There's less than one month to go for donors to help BC reach this year's Alumni Participation Challenge goal. We need 9,500 more donors to make a gift of any size by May 31 to gain an additional $500,000 for financial aid. More
More than 14,000 alumni are already charter members of the William B. Neenan, S.J., Society. If you gave last fiscal year (June 1, 2008–May 31, 2009), your gift of any size before May 31 this year qualifies you for membership in the new society, which recognizes loyal alumni who make annual gifts in consecutive years. More
Celebrating Distinguished Volunteers

The University honored five distinguished volunteers at the Volunteer Tribute Dinner in March. For more information on these committed alumni, click here. To watch a brief audio slideshow of their remarks, click here.
General Electric CEO, New U.S. Senator to Speak at Commencements

Jeffrey Immelt

U.S. Sen. Scott Brown, JD'85, P'10
Jeffrey Immelt, CEO of General Electric, will speak at the University's Commencement ceremonies Monday, May 24. Five others, including three alumni, will receive honorary degrees. More • U.S. Senator Scott Brown, JD'85, P'10, will speak at the BC Law School Commencement Friday, May 28. More
More April Fools Hijinks
Several alumni responded to last month's article on past April Fools hoaxes in the Heights with their own special recollections. Click here to view them.
Upcoming Alumni Events

"Taming Technology in a Wired Workplace" - Wednesday, May 12

"Financing the Transition to a Green Economy" - Energy and Environment Alumni Network – Wednesday, May 26

"Keeping the Peace: Law Enforcement in a Complex World" - Law Enforcement Alumni Network - Wednesday, June 2

For more events, click here.
Featured Alumni

Ashley Adamson '04
Ashley Adamson '04 has joined WISH-TV, Indianapolis, Indiana, as a sports reporter. More
Lynne Celli, MEd'88, PhD'91, is the new superintendent of schools in Swampscott, Massachusetts. More
Ken Hackett '68, H'06, president of Catholic Relief Services, is the 2010 recipient of Catholic Charities Boston's Justice and Compassion Award. He is to receive the award at the organization's spring celebration dinner May 20. More
Alumni Reach Out on National Day of Service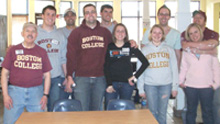 Members of the Cleveland Chapter worked at the West Side Catholic Center as part of the National of Service. From left: John Brock '65, Brett Erhardt '09, Mike Quinn '99, Brian Carney '07, Dan Solar, Melissa Koski '07, Michelle McGowan '00, Patrick Hyland '09, Joy Killgoar '01, and Steve Rini '00.
Twenty-five regional chapters performed charitable works in April as part of the Alumni Association's annual National Day of Service. Thanks to everyone involved this year. Please send any photos, feedback, or questions to alumnichapters@bc.edu
. In the next edition of Alumni Connections, we'll provide more photos.
Congratulations to Men's Hockey!
The BC men's hockey team won its second national championship in three years, and fourth in history, with a 5-0 win over Wisconsin April 10. Click here for a video recap of the season on the BC YouTube channel and here for a video of the campus celebration of our national champions.
Living the Journey Conference
Nearly 900 people attended "Living the Journey: Spirituality for the Second Half of Life," a daylong conference on campus April 10. You can view the keynote addresses and several of the video and PowerPoint presentations at www.bc.edu/journey.
Wall Street Council Tribute Dinner Supports Presidential Scholars
More than 800 alumni, parents, and friends attended BC's annual Wall Street Council Tribute Dinner April 22. The event raised over $2 million for the Presidential Scholars Program. Francis C. Rooney, Jr., H'86, P'76, '78, '87, chairman, H.H. Brown Shoe Co., Inc., received the President's Medal for Excellence at the event.
Grad School Services
BC's Career Center offers numerous resources and services to alumni interested in pursuing graduate or professional education. Click here.
BC Connections Mentoring Convocation
Slisha Kankariya '11 and Lee Zupkofska '03
More than 200 BC alumnae and female students greeted each other on campus April 6 at a meeting of the BC Connections Mentoring Program. The mentors and students entered into a 2½-year program. Alumnae interested in serving as a mentor can email bcc@bc.edu, or contact Bob Sherwood in the Alumni Association at robert.sherwood@bc.edu.
Alumni Travel: Announcing a Great Lineup for 2011
The Travel Study Programs for 2011 feature trips to South America, Israel, Costa Rica, Australia and New Zealand, the Carribean, China and Tibet, France, Italy, Ireland, the Dalmatian Coast, Eastern Europe, and the Mediterranean. We are also bringing back two North American programs: the "Passage of Lewis & Clark" and "Alaska's Glaciers & Inside Passage." Click here to learn more.
BC Athletics Update

Get ready for the 2010 Boston College football season. Come out to Alumni Stadium and cheer on the Eagles as they take on ACC rivals Virginia Tech, Maryland, Clemson, and Virginia, as well as non-conference opponents Weber State, Kent State, and Notre Dame. Click here to get your season tickets today!


may 2010
In This Issue
Alumni Participation Challenge
Celebrating Distinguished Volunteers
Commencement Speakers
More April Fools Hijinks
Grad School Services
Upcoming Alumni Events
Featured Alumni
National Day of Service
Congratulations to Men's Hockey
Living the Journey
Wall Street Council Tribute Dinner
BC Connections Mentoring
Alumni Travel
Athletics Update
University News

Joseph Appleyard, S.J., '53, PhL'58, vice president for University mission and ministry, will soon complete a 43-year career on the Heights. He leaves this summer to accept a leadership position with the New England Province of Jesuits.
More
School News
The Lynch School of Education (#19), Carroll School of Management (full-time #39, part-time #20), and BC Law School (#28) remained high in the standings in the annual U.S. News rankings of graduate and professional schools. More
BC Club

With more than 2,300 members, the Boston College Club is proud to be Boston's premier private business and social club. Visit the Web site for more information.
Campus Calendar
"The Future Church: How 10 Trends are Revolutionizing the Catholic Church," John Allen, senior correspondent, National Catholic Reporter, Wednesday, May 5, 7:00 p.m., St. Ignatius Church. Sponsored by the Church in the 21st Century Center. More
On Eagles' Wings

Submit your prayers and intentions through On Eagles' Wings, an online service provided by the Alumni Association.
C21 Corner

For further information on upcoming online courses and workshops offered by the Church in the 21st Century Center, contact Jessica Salefski at jessica.salefski@bc.edu or visit www.bc.edu/c21online.
STM Continuing Education
For continuing education opportunities from the School of Theology and Ministry in May, visit www.bc.edu/stmce.
New Benefits and Discounts for BC Alumni
Boston College alumni now join BC employees in being eligible to receive discounts and special promotions with national and local companies, including Extra Space Storage. For information on these special programs, click here.
Expanded Health Insurance Offerings
The BC Alumni Insurance Program offers a variety of health insurance options for individual alumni and their family members—even in states where insurance regulations limit the availability of some products.
Now alumni in Massachusetts, New York City, and Vermont have additional options available through the Alumni Association. Learn more about all of the insurance products by clicking the image below.


Click image for info
Insurance Discounts
As a Boston College alumnus, you may qualify for a special group discount* on your auto, home, and renters insurance from Liberty Mutual. See for yourself how much money you could save with Liberty Mutual compared to your current insurance provider. Call 1-888-393-GOBC (4622) or visit www.libertymutual.com/bc.
*Group discounts, other discounts, and credits are available where state laws and regulations allow, and are not available in all states.
Official Reunion Airline
Jet Blue is the official airline for BC's Reunion Weekend 2010, June 4–6. Visit the reunion Web site for updates on all reunion-related activities.
BC Rewards Card
Each purchase on your Boston College Platinum MasterCard® earns you points toward exclusive BC rewards.
Click image to apply
Plus, when you use the card at a BC bookstore, you will receive a 10 percent discount on select items.

Rewarding yourself also supports the Boston College Alumni Association. Each year, with dollars funded by the card program, the Alumni Association awards $150,000 in scholarships for children of BC alumni.
Alumni Programs
Affinity Programs
Career Services
Chapters
Classes/Reunions
Newton College
Spirituality & Service
Travel/Study

Have ideas for programs or services you'd like us to consider? Contact a member of our staff.
Quick Links