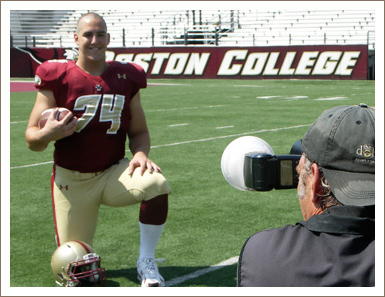 Posed for Success – Senior offensive lineman Anthony Castonzo poses at preseason "photo day." One of four BC captains, Castonzo and the other Eagles open their season Saturday, Sept. 4, at home against Weber State. See "Athletics Update" at the bottom of this e-newsletter for ticket information.
Celebrate New and Golden Eagles!
Alumni are invited to join the incoming Class of 2014 and this year's new Golden Eagles, the Class of 1961, at the First Year Academic Convocation, Thursday, Sept. 16. There is a reception for alumni at 5 p.m. in Burns Library prior to a procession across campus to the convocation in Conte Forum. Click here for a video invitation.
First-Day Memories
Excitement. Apprehension. Resilience. A hurricane! These were just some of the elements cited by two dozen alumni offering reminiscences of their "first day of school" at BC. Click here to read their recollections—they may spur some of your own.
New Ranking Results Are In!
Boston College rose to #31 among national universities in the 2011 U.S. News & World Report ranking of "best colleges," its highest ranking to date. The University jumped three positions, bolstered by a strong assessment from high school guidance counselors, who placed BC at #22 overall, as well as increases in student selectivity and average alumni giving rates. This is a fantastic example of how alumni support makes both a statement and a difference. More
Terrific Tailgates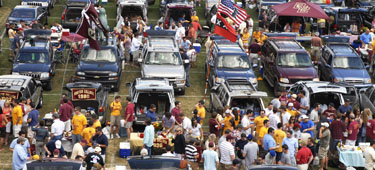 Among these happy tailgaters on Shea Field are some terrific tailgate setups—flags, maroon-and-gold table settings, furniture, games, etc. Send pictures of BC tailgate setups—present and past, on Shea or elsewhere—you think deserve to be included among BC's best to uacommunications@bc.edu.
Honoring Hispanic Heritage
All alumni are invited to attend campus events celebrating National Hispanic Heritage Month, observed each year Sept. 15–Oct. 15. For more information, contact Eva Maynard at eva.maynard@bc.edu.
Upcoming Alumni Events
Alumni Education: "Emotion and Memory Changes in Aging Adults" - Tuesday, Sept. 21

Pops on the Heights Scholarship Gala - Friday, Sept. 24

Alumni Education: "Leadership: Getting the Best Teams Possible" - Thursday, Sept. 30
For more events, click here.
Featured Alumni

Melina Gerosa Bellows '87
Melina Gerosa Bellows '87 is chief creative officer of National Geographic Kids and Family. More
Jack Warner, EdD'83, is executive director and CEO of the South Dakota board of regents, which oversees the state's higher education system. More
Mike Woicik '78, a former discus thrower for the Eagles, has begun his 11th season as strength and conditioning coach of the New England Patriots. More
Langham Supper Club Invites Eagles
BC alumni are eligible for complimentary membership in the Langham Supper Club, which provides exclusive discounts and other benefits at The Langham, Boston, and at other Langham, Langham Place, and Eaton hotels worldwide. Click here for more information.
Brighten the Days of Retired Jesuits
Retired Jesuits, including many former BC faculty and staff, welcome BC alumni as visitors to their Campion Center home in nearby Weston. If you can volunteer to visit a Jesuit once a month, present a slideshow or discussion, or be available to help with an occasional errand, please contact Meghan Farrell-Talmo, Campion activities director, at 781-788-4757 or MFarrell@CampionCenter.org.
Honoring BC Veterans
The University's annual Veterans Remembrance Mass and Ceremony to recognize the service and sacrifice of BC alumni in times of conflict is Nov. 11. Details to come in the November edition.
Job Fair in Boston
BC alumni are welcome free-of-charge to the Jobnob MassChallenge Job Fair, Wednesday, Sept. 29, 4:30 p.m., at One Marina Park Dr., 14th Fl., Boston. Click here for more information at Jobnob.
Alumni Travel Opportunities
Travel over land and sea with BC alumni, friends, and family. Click here for more information, or call Gail Darnell at 617-552-8035.
Join BC Football on the Road
The Alumni Association, in partnership with BC athletics and the Gridiron Club, welcomes alumni, family, and friends to pregame tailgates at select away BC football games this fall: Florida State, Tallahassee, FL, Oct. 16; Duke, Durham, NC, Nov. 13; and Syracuse, Syracuse, NY, Nov. 27. For more information and to register, click here.
Athletics Update
Football Ticket Options
Football season tickets are still available and start as low as $175! As a season ticket holder, you will have access to special offers, road game travel opportunities, and an e-newsletter. Click here for season tickets.
• Starting at $85, 3-Game Flex Packs include the Oct. 30 game vs. Clemson and allow you to choose two other games: Weber State or Kent State and Maryland or Virginia. Click here to select your 3-Game Flex Pack today!
• Single game tickets are now available for Weber State, Kent State, Virginia, and Maryland, starting as low as $10 for select games. Click here for available game tickets.
• Group tickets start as low as $10 per person for games against Weber State and Kent State, and $15 for Maryland and Virginia. Click here for more information on group tickets.
Basketball and Hockey Tickets
Basketball and hockey season tickets are now on sale! Click here to purchase men's basketball tickets, click here for women's basketball tickets, and click here to purchase men's hockey tickets.
september 2010

In This Issue

Celebrate New and Golden Eagles!
First-Day Memories
New Ranking Results Are In!
Terrific Tailgates
Honoring Hispanic Heritage
Upcoming Alumni Events
Featured Alumni
Langham Supper Club Invites Eagles
Brighten the Days of Retired Jesuits
Honoring BC Veterans
Job Fair in Boston
Alumni Travel Opportunities
Join BC on the Road
Athletics Update

University News

The Lowell Humanities Series announces its 2010-11 lineup, with September appearances by such notables as Massachusetts Gov. Deval Patrick and New York Times foreign correspondent and author Dexter Filkins.
More

School News

"Leadership for Change" is a graduate-level, work-based program at the Carroll School of Management. Sponsored by the Winston Center for Leadership and Ethics, the program guides working professionals to become leaders of change. Click here for more information.

Campus Calendar

Gabriel Schoenfeld, senior fellow at the Hudson Institute, will give a Constitution Day lecture, discussing his book, Necessary Secrets: National Security, the Media, and the Rule of Law. Thursday, Sept. 16, 4:30 p.m., McGuinn Auditorium.

C21 Corner

Helen Prejean, CSJ, author of Dead Man Walking and activist opposing capital punishment, will speak at Robsham Theater, Friday, Sept. 17, 7 p.m. Tickets are free, but necessary for admission. More
For information on three online course offerings in September, click here.

On Eagles' Wings

Submit your prayers and intentions through this online service provided by the Alumni Association.

BC Club

With more than 2,300 members, the Boston College Club is proud to be Boston's premier private business and social club. Visit the Web site for more information.

Benefits and Discounts for BC Alumni

Boston College alumni are eligible to receive discounts and special promotions from national and local companies, including those whose logos are below. For information on these programs, click on the individual logos. For information on other programs, click here.

For complimentary enrollment and Langham discounts




For medical, life, and travel insurance




For auto and home insurance at group rates




For a BC-branded credit card that supports student scholarships






Alumni Programs

Affinity Programs
Alumni Education
Career Services
Chapters
Classes/Reunions
Newton College
Spirituality & Service
Travel/Study

Have ideas for programs or services you'd like us to consider? Contact a member of our staff.

Quick Links