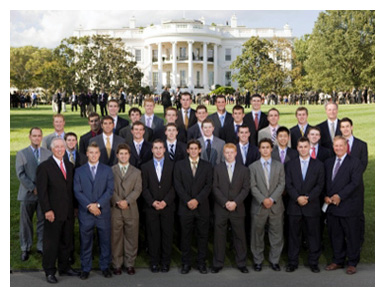 National Honors – Coach Jerry York and members of the BC hockey team, NCAA champions this past season, were guests at the White House Sept. 13. The Eagles also visited Walter Reed Army Medical Center and met Massachusetts U.S. Senators Scott Brown and John Kerry, both BC Law School alumni. Click here for more information and photos.
What about the Other Fight Song?
Pick Your Favorite!
Nearly all Boston College alumni are familiar with For Boston, but some fans think Sweep Down the Field for Boston might be the better BC fight song. Click here for more on these classic songs, listen, and vote for your favorite!
Alumni and Parents Engage Campus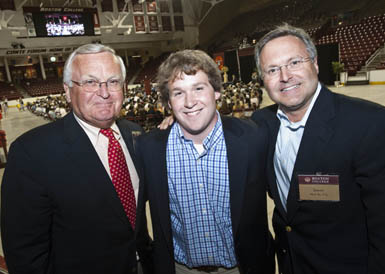 Three generations of Eagles gathered Sept. 16 at the First Year Academic Convocation in Conte Forum. From left: Peter J. Barry '61, a new Golden Eagle; Matthew D. Barry '14, a freshman; and Steven M. Barry '85, P'14.
The First Year Academic Convocation and Parents' Weekend brought hundreds of alumni and parents to campus in September. Members of the 2011 Golden Eagle Class of 1961 joined the incoming Class of 2014 at the First Year Academic Convocation Sept. 16. Parents' Weekend, Sept. 24–26, provided a wide range of activities, including the annual Pops on the Heights Scholarship Gala. View a photo album of the weekend.
Display Your Tailgate Talents
Some BC fans go all out for tailgates. They create elaborate venues for food, libations, and fun with flags, games, table settings, music, grills, and more. Send pictures of BC tailgates—this season or in the past—you think deserve to be considered among BC's best to uacommunications@bc.edu.
Upcoming Alumni Events
Alumni Education: "Brand Yourself to Get the Job" - Wednesday, Oct. 13

"Career Networks in the Middle East" - Middle Eastern and Islamic Studies Alumni Network - Monday, Oct. 25

The Real Estate Council Symposium - Thursday, Nov. 4

Featured Alumni

Ginny Mackin '81
Virginia "Ginny" Mackin '81 has become senior vice president and chief communications officer at Duke Energy, Charlotte, N.C. More
Tony Nuzzo '73, CEO of First Commons Bank, received the 2010 Stevie Award for executive of the year in financial services. More
Shari Zedeck, MBA'86, is the new vice president of product management at NaviNet, the nation's largest real-time health care communications network. More
Alumni Travel: Early Bookings May Mean Free Airfare
Alumni travelers can take advantage of early booking discounts and, for select programs, free airfare! Enjoy a historic excursion around the Celtic lands, cruise the Adriatic Sea, or explore Alaska's glaciers and the Inside Passage. All trips are fully guided and a great value. Call Gail Darnell at 617-552-8035 for more information about these and other 2011 programs. For a full list, click here.
Road Show: Connect with Alumni at Away Games
Alumni, family, and friends can see the Eagles and enjoy the company of fellow fans at pregame tailgates, sponsored by the Alumni Association, BC Athletics, and the Gridiron Club, at select away football games this fall. Tailgates will be held at Florida State, Tallahassee, Fla., Oct. 16; Duke, Durham, N.C., Nov. 13; and Syracuse, Syracuse, N.Y., Nov. 27. For more information and to register, click here.
Athletics Update
A New Hockey Decade
After unparalleled success over the past 10 years, BC hockey starts a new decade with the intent to make history again. Check out this hockey video.
Winter Sports Tickets
Basketball and hockey season tickets are now on sale. Click here to purchase men's basketball tickets, click here for women's basketball tickets, and click here to purchase men's hockey tickets.
october 2010

In This Issue

What about the Other Fight Song?
Alumni and Parents Engage Campus
Display Your Tailgate Talents
Upcoming Alumni Events
Featured Alumni
Alumni Travel: Early Bookings May Mean Free Airfare
Road Show: Connect with Alumni at Away Games
Athletics Update

University News

Boston College will mark its 150th anniversary with a Sesquicentennial Celebration, 2012–13. More

School/Center News

Daniel J. Lasker, professor of Jewish values at Ben-Gurion University of the Negev in Israel, is visiting professor this year at BC's Center for Christian-Jewish Learning. More

Campus Calendar

Vernon Hyde Minor, professor emeritus, University of Colorado, presents "Bending Architecture and Vivifying Sculpture," this year's Josephine von Henneberg Lecture in Italian Art, Thursday, Oct. 14, 5 p.m., Devlin 101.

C21 Corner

The Church in the 21st Century Center has published The Catholic Intellectual Tradition: A Conversation at Boston College to encourage faculty, students, alumni, and thinking people everywhere to consider the gift of the Catholic tradition and to enter actively into the conversation. View the PDF

Exclusive offer for BC alumni: C21 Online course "Autumn Blessings," $30 off regular price of $75. To register, click here.

On Eagles' Wings

Submit your prayers and intentions through this online service provided by the Alumni Association.

Planning an Event?

The Connors Family Retreat and Conference Center is now booking corporate outings, meetings, weddings, and social events. Find out more at www.bc.edu/retreat.

Benefits and Discounts for BC Alumni

Boston College alumni are eligible to receive discounts and special promotions from national and local companies, including those whose logos are below. For information on these programs, click on the individual logos. For information on other programs, click here.

For a BC-branded credit card that supports student scholarships




For complimentary enrollment and Langham discounts




For medical, life, and travel insurance




For auto and home insurance at group rates




Alumni Programs

Affinity Programs
Alumni Education
Career Services
Chapters
Classes/Reunions
Newton College
Spirituality & Service
Travel/Study

Have ideas for programs or services you'd like us to consider? Contact a member of our staff.

Quick Links