DC Service – The Washington DC Chapter, making up for a rained-out National Day of Service in April, visited the Little Sisters of the Poor July 24. They assisted elderly residents, leading activities ranging from a sing-along to bingo, and did some yard work.
Remember Your First Day at BC?
Early next month, more than 2,000 young men and women will arrive for their first official day at BC. Do you have any special memories of your first day at the Heights? Did you meet someone who is still your friend today? Did you feel homesick? Excited? Apprehensive? Did you get lost? Share your special memories in a note to uacommunications@bc.edu. We'll compile them for the September edition.
Old and New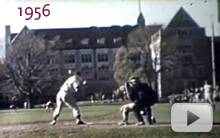 There was no McElroy Commons or lower campus (hence baseball on "Alumni Field" with Lyons Hall in the background). "Coeds" wore dresses, male students dressed in coats and ties, Jesuits were in cassocks. Those were some of the visible characteristics of BC in 1956. Towers on the Heights is a 27-minute film that brings us back 54 years and includes scenes of a typing class, BC-Holy Cross football in Fenway Park, a spring formal, and alumni "hijinks." If you recognize yourself or a friend in the film, let us know at uacommunications@bc.edu. Videos: @BC Feature archive (RealPlayer required) or YouTube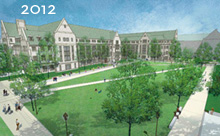 There will be a new academic building, first since 1991 and twice as big as Devlin Hall. Two building wings will be linked by a glassed-in skyway. A new "quad" will replace the Dustbowl. That's Stokes Hall, construction of which is to start this fall pending approval by the Board of Trustees. The artist's rendition above views the new building from near Carney Hall, with the south side of Lyons Hall at top right and, in the foreground, what is now the Dustbowl. Coverage in BC Chronicle and Boston College Magazine
Affinities—Hellenic Alumni Network
Newest among the alumni groups being formed around shared backgrounds and interests is the Hellenic Alumni Network. Alumni of Greek descent interested in joining together for networking and career development opportunities, mentoring current students of Greek descent, and more should e-mail hellenicalumni@bc.edu for additional information.
The Alumni Association supports several alumni affinity groups. Click here for more information on current organizations and guidelines about starting an affinity group.
Not-So-Trivial Results
More than 1,300 alumni took the trivia quiz in the July edition. Most people answered most questions correctly, but the one that threw a majority of people asked who wrote For Boston. Only 24 percent picked the correct answer—T. J. Hurley '85. We're sure a lot of people thought someone from the Class of '85 would have been too young, but Mr. Hurley was a member of the Class of 1885. Click here for a breakdown of the quiz results, including all the correct answers. And thanks to all who took the quiz.
Parents, Pops, and Pigskin
Parents' Weekend, September 24–26, provides a variety of programs and activities that make the annual event very popular. Highlights include presentations by William P. Leahy, S.J., president, and other University administrators and faculty; the Pops on the Heights Scholarship Gala, featuring the Boston Pops; and the BC-Virginia Tech football game with a pregame barbeque. For more information and to order tickets, click here.
BC at PGA
Some discounted tickets remain available for the Deutsche Bank Championship, New England's premier PGA tour event, Tuesday, August 31–Monday, September 6, at TPC Boston in Norton, MA. Click here for tickets. At the event, please stop by the Alumni Association table under the BC flag at the 17th tee.
Upcoming Alumni Events
The Alumni Education program aims to provide BC alumni opportunities for lifelong learning that link up to their diverse ages and interests. At this time, 13 programs scheduled for September–December address such topics as women's career hiatus, Massachusetts politics (just before elections), wine selections, and work-life balance for young professionals. Click here for more information on this fall's programs.
All alumni are invited to attend the University's First Year Academic Convocation, Thursday, September 16. The Alumni Association will open the event with a complimentary reception for alumni and friends 5:00–6:00 p.m. The convocation itself, in Conte Forum, will feature an address by Daniel Wolff, author of How Lincoln Learned to Read: Twelve Great Americans and the Educations That Made Them. For more information and to register, click here.
Featured Alumni

Karen Daley
Conor McDonald '09 was sworn in as a New York Police Department cadet July 6, nearly 24 years to the day after his NYPD father was shot and paralyzed. More
Karen Daley, MS'04, PhD'10, is new president of the American Nurses Association, the nation's leading professional nursing organization. More
Geoff Ellis '91 received the 2010 Petaluma (California) "service to youth" award in part because of his leadership role with the Boys and Girls Clubs of Marin and Sonoma Counties. More
Beat Cancer Golf Outing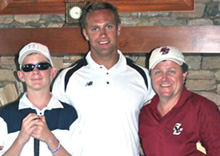 BC football player Mark Herzlich (center) was special guest at the first Beat Cancer golf event held May 22 at the Ritz-Carlton Members Club, Sarasota, Florida. Organized by Tom LaFrance '84, P'13, '14 (right) and his wife, Lynn, P'13, '14, the event also recognized Jake Olson (left). Both Herzlich and Olson had been honored as cancer survivors the night before in Sarasota at the Dick Vitale Gala for cancer research. Herzlich, 2008 ACC defensive player of the year as a linebacker, missed last season to receive treatment for a rare cancer. He has been cleared to return to play this season. The LaFrances hope to make the golf event an annual affair. To receive information on next year's outing, contact Tom LaFrance at tplbc84@gmail.com.
Alumni Travel
Travel with Boston College alumni, friends, and family. Land and sea programs combine fabulous destinations, great food, and touring with like-minded travelers. Take advantage of two new air-inclusive programs: "Costa Rica," departing February 19, 2011, and "The Best of France & Italy," departing April 7, 2011. Of special note are those programs with early booking discounts: "Alumni Campus Abroad in Israel" and "Legends of the Nile." For more information, click here or call Gail Darnell at 617-552-8035.
BC Athletics Update
Football Ticket Options
There are several ticket options available for BC football fans. Season tickets are still available and start as low as $175! As a season ticket holder, you will have access to special offers, road game travel opportunities, and an e-newsletter. The home schedule features games against Weber State, Kent State, Virginia Tech, Notre Dame, Maryland, Clemson, and Virginia. Click here for season tickets. Starting at $85, 3-Game Flex Packs include the October 30 game vs. Clemson and allow you to choose two other games: Weber State or Kent State and Maryland or Virginia. Click here to select your 3-Game Flex Pack today! Single game tickets are now available for Weber State, Kent State, Virginia, and Maryland, starting as low as $10 for select games. Click here for available game tickets. Group tickets start as low as $10 per person for games against Weber State and Kent State, and $15 for Maryland and Virginia. For more information on group tickets, click here.
Basketball and Hockey Tickets
Basketball and hockey season tickets are now on sale! Click here to purchase men's basketball tickets, click here for women's basketball tickets, and click here to purchase men's hockey tickets.

Men's Track and Field Alumni Outing
Alumni and friends of the men's track and field teams are invited to their first annual golf and family outing, Saturday, August 28, Glen Ellen Country Club, Millis, MA. The event is cosponsored by the Varsity Club. For information, contact Matt Kerr, head coach of the men's cross-country and track teams, at matthew.kerr@bc.edu.
august 2010

In This Issue

Remember Your First Day at BC?
Old and New
Hellenic Alumni Network
Not-So-Trivial Results
Parents, Pops, and Pigskin
BC at PGA
Upcoming Alumni Events
Featured Alumni
Beat Cancer Golf Outing
Alumni Travel
Athletics Update

University News

John King assumes duties this month as new director of public safety and chief of police. The career campus law enforcement official comes to BC from Tufts University.
More

School News

George Brown, Drinan Professor of Law, has been named interim dean of BC Law School. A search is underway for a successor to former dean John Garvey, recently appointed president of Catholic University. More

Campus Calendar

The McMullen Museum of Art reopens Saturday, September 4, with "Literary Lives: Portraits from the Crawford Art Gallery and Abbey Theatre, Ireland."

On Eagles' Wings

Submit your prayers and intentions through On Eagles' Wings, an online service provided by the Alumni Association.

Planning an Event?

The Connors Family Retreat and Conference Center is now booking corporate outings, meetings, weddings, and social events. Find out more at www.bc.edu/retreat.

Benefits and Discounts for BC Alumni

Boston College alumni join BC employees in being eligible to receive discounts and special promotions with national and local companies. For information on these special programs, click here.

Insurance Discounts

As a Boston College alumnus, you may qualify for a special group discount* on your auto, home, and renters insurance from Liberty Mutual. See for yourself how much money you could save with Liberty Mutual compared to your current insurance provider. Call 1-888-393-GOBC (4622) or visit www.libertymutual.com/bc.
*Group discounts, other discounts, and credits are available where state laws and regulations allow, and are not available in all states.

BC Rewards Card

Each purchase on your Boston College Platinum MasterCard® earns you points toward exclusive BC rewards.




Click image to apply

Plus, when you use the card at a BC bookstore, you will receive a 10 percent discount on select items.

Rewarding yourself also supports the Boston College Alumni Association. Each year, with dollars funded by the card program, the Alumni Association awards $150,000 in scholarships for children of BC alumni.

Health Insurance for Class of 2010

The Alumni Association sponsors a program to help alumni needing health insurance on a short-term or permanent basis. The BC student health insurance plan ends August 6, so new graduates may need coverage soon. Going without health insurance puts you at personal and financial risk, but affordable options are available. Visit www.meyerandassoc.com/ma/bc for more information or to apply. Learn more about all the insurance products available to alumni by clicking the image below.


Alumni Programs

Affinity Programs
Alumni Education
Career Services
Chapters
Classes/Reunions
Newton College
Spirituality & Service
Travel/Study

Have ideas for programs or services you'd like us to consider? Contact a member of our staff.

Quick Links