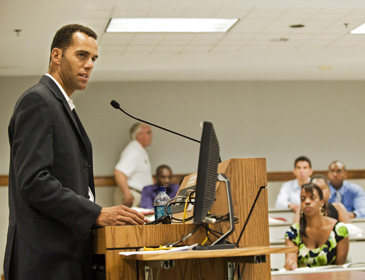 AHANA Celebration Connects Grads across the Years. Some 600 alumni, family, and friends returned to campus for RECONNECT July 16–19. Weekend highlights included a celebrity golf tournament, a gala event, a Caribbean lobster bake, and discussions of strategic initiatives that support students of color at Boston College today. Pictured above, Steve Pemberton '89, vice president and chief diversity officer at Monster Worldwide, leads a seminar in Fulton Hall on how to advance your career. (photo by Suzanne Camarata)
Upcoming Alumni Events
Irish Fest Mass and First Year Sendoff Reception — August 16

Please join the Wisconsin Chapter for a fun-filled day at Irish Fest at Henry W. Maier Festival Park in Milwaukee! Learn more.
Alumni Singles Event— September 9

Great job, good friends, lots of hobbies—what's missing? If you said love, join your fellow single Eagles (alumni 11–20 years out) to connect over old memories and to create new ones at Vintage Lounge, a downtown Boston favorite, from 6:00 to 9:30 p.m. Free hors d'oeuvres and a cash bar will be available. Register now.
Class of 2009 Boston Welcome Night — September 16

Loving that dirty water? Breaking in your new Red Sox cap? The Boston Chapter wants to congratulate members of the Class of 2009 on your graduation and welcome you to your new life in Beantown by treating you to a cocktail at The Place in downtown Boston from 6:00 to 9:30 p.m. Free hors d'oeuvres also will be available. Register now.
Alumni Reception at First Year Academic Convocation — September 17


Author Ann Patchett
Alumni are encouraged to attend First Year Academic Convocation, an event that unites the entire freshman class at the start of its BC experience. The Alumni Association will open the event with a complimentary reception for alumni and friends from 5:00 to 6:00 p.m. Alumni are then urged to cheer on the Golden Eagles of the Class of 1960 and the Class of 2013 as they process from Linden Lane across campus to Conte Forum, where Ann Patchett will discuss Run, her New York Times bestselling book. More information will follow in next month's newsletter.
Wall Street Council Golf Outing — September 21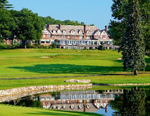 Members of the Wall Street Council invite alumni and friends to participate in the 8th annual Wall Street Council Golf Open at Baltusrol Golf Club in Springfield, New Jersey. For more information on entry fees and to register, please visit the website.
Save the Date: Journey of Aging Conference — April 10, 2010

A major, new, daylong conference, The Journey of Aging: Spirituality for the Second Half of Life, will feature AARP President Jennie Chin Hansen '70. Learn more.
Amazing Savings Available until September 18:
Alumni Cruise the Mediterranean and Greek Isles
Follow in the wake of great explorers as you crisscross the blue seas of the Mediterranean aboard the luxurious and intimate 684-passenger Oceania Cruises' Nautica May 13–24. Stops on the shores of Turkey, Greece, Italy, Monaco, and France will provide unforgettable experiences. Book by September 18 and save $2,000 per stateroom. Discover more.
Alumni in the News

Lesley Visser '77, H'07
Brian Hayes '71, P'98, was nominated as a member of the National Labor Relations Board by President Obama. More
Mary P. Moschos '73 co-invented an exercise device—Love Handles—that attaches to the handlebars of a baby carriage. More
Lesley Visser '75, H'07, was voted the number one female sportscaster by the American Sportscasters Association. More
More news stories about alumni
Do You Know Communications? Link in the Alumni Association to Your Area of Expertise!
The Alumni Association is looking for communications-savvy alumni to participate in a new, nationwide communications committee. The purpose of the committee will be to review sample communications pieces, suggest ways to help the Alumni Association better connect with our alumni, and provide guidance on using today's communications vehicles, especially social media. Some of you have already indicated that you'd like to be a part of this group—thank you! Others who are interested in being part of this committee may contact Jean Chisser, MA'91, at jean.chisser@bc.edu. A conference call will be planned for the end of August to kick things off—and most of our work will be done electronically—so even if you don't live near BC, you are welcome to join!
Interested in Energy and the Environment?
Join a New Alumni Network
Frances A. Dubrowski, NC'70, and Patricia Randolph Williams '77 are working with the Alumni Association to launch the Boston College Energy and Environment Alumni Network (BCEEAN), which will connect and provide opportunities for alumni interested in energy and the environment. Members will receive a semi-annual e-newsletter and notice of BCEEAN networking events and on-campus conferences. Join by e-mailing envrn@bc.edu your name, class year, job title and company, geographic location (city and state), and preferred e-mail address. Learn more (PDF).
BC Athletics Roundup
BC Football Video

Coach Spaziani and the Eagles football squad have a special message for you. Take part in an interactive BC football video.
Join Baldwin's Bunch


Baldwin the Eagle has a special kid's club so that your children can celebrate BC and enjoy exclusive benefits! Perks include a Baldwin's Bunch welcome packet, free tickets for you and your children to select games, private events with Baldwin and BC athletes, and many more exciting opportunities! Join now.
Group Sales BC Football

If you know any group or organization that would like to attend a Boston College football game, group tickets are on sale now for as low as $10 per ticket! In addition, BC is offering no-risk fundraising opportunities. Participating organizations can sell BC tickets and keep $5 from each sale—the perfect opportunity for churches, youth sports teams, and other organizations to potentially raise thousands of dollars. Learn more.