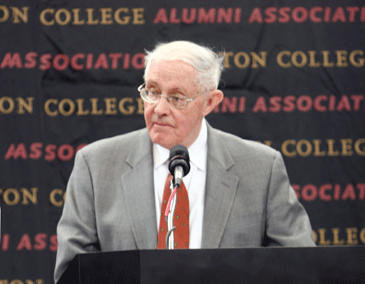 Neenan Challenge Pushes Toward Goal. As Boston College's fiscal year comes to a close on May 31, the final push to meet the Neenan Challenge is underway. As of today, BC is only 5,517 donors away from 25,000—a milestone that will secure $500,000 from anoynymous donors for financial aid. If you haven't made your gift yet, click here to give to the Neenan Challenge.

If it's been awhile since you've seen Fr. Neenan, click here to view clips from his Laetare Sunday address.
Reunion 2009 Less Than a Month Away!
Make plans now to join Reunion Weekend festivities May 28-31. Reconnect with old friends, attend your class party, and enjoy being back at the Heights. More than 5,000 alumni attended last year's celebration; don't miss out!
RECONNECT: An AHANA Celebration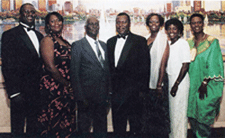 RECONNECT, which promises to be BC's largest gathering of AHANA alumni, takes place July 16–19. Registration is now available by clicking here. If you have any questions, contact Eva Maynard at eva.maynard.1@bc.edu.
Upcoming Alumni Events
An Evening with Father Monan at the BC Club — May 6

During his 24 successful years as president of Boston College, J. Donald Monan, S.J., always remained his own speech writer. Join Fr. Monan as he reflects upon his new book, Echoes of a University Presidency, which features a selection of speeches delivered throughout his tenure, and offers his perspective on how the speeches weave together the people and events that are the fabric of BC's history. The event is free and will begin at 5:30 p.m., with a reception and book signing to follow at 6 p.m. RSVP by calling 617-946-2828.
Broadway Hits the Heights! — May 6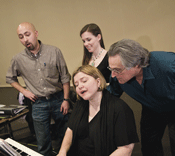 Jason Robert Brown's critically-acclaimed musical, Songs for a New World, will be presented at 7:30 p.m. in Robsham Theater. This one-night-only performance features a cast of professional alumni entertainers and represents the culmination of a year-long relationship between BC and Visiting Monan Professor of Theatre Arts Mary-Mitchell Campbell, who is spending the 2008–09 academic year on campus working with students and faculty on a series of programs. For tickets to the show and the cast party, click here.
Reunion Reception for Woods College Alumni — May 28
Each year as a kickoff to Reunion Weekend, the WCAS Alumni Association and James A. Woods, S.J., welcome the most recent graduates and fellow alumni from the Intown College, Evening College, College of Advancing Studies, and Woods College to their annual reunion reception. This event takes place at 6:30 p.m. at Alumni House on Newton Campus. All are invited to enjoy hors d'ouevres, an address by Fr. Woods, a raffle, and more! Register online.
Real Estate Council — June 10
Save the date of June 10 for the Real Estate Council Breakfast featuring Raymond G Torto, PhD, CRE, global chief economist of Global Research and Consulting at CB Richard Ellis. The event will take place at the BC Club in downtown Boston at 8:00 a.m. Look for more details to follow or contact Claire Zukauskas at Claire.Zukauskas@bc.edu.
The Last Trip to South Bend? BC vs Notre Dame — October 23–25

The Alumni Association and BC Athletics invite all alumni and fans to visit South Bend to cheer on the Eagles, when they battle the Fighting Irish of Notre Dame on the gridiron! This will be the Eagles' last visit to Notre Dame in the foreseeable future, so don't miss out on this great trip! For more information and to book your package today, visit the website.
Spirituality and Service
Do you ever wonder where your life is headed? The Pathways retreat offers Boston College alumni who have graduated within the past 10 years an opportunity to return to campus and consider their path since graduation. This special gathering offered by the Alumni Association's Office of Spirituality and Service combines the elements of a spiritual retreat with a career/vocation discernment workshop. The cost for this overnight retreat is $85 (single rooms available for an additional $20), and the retreat is limited to 30 spots. Register online.
Do You Tweet While You're LinkedIn?
Join a New Communications Committee
Some of us are old enough to remember communicating with our friends using two tin cans and a piece of string. Times sure have changed, and the Alumni Association is interested in tapping into the knowledge and expertise of those of you who are up to speed with today's ever-changing communications vehicles. Do you tweet with the best of them? Are you a Facebook fanatic? Are you LinkedIn like no other? Then please consider joining our new Communications Committee to help us understand how to best keep in touch with our BC friends. Contact Jean Chisser for more information at jean.chisser@bc.edu.

East Coast Tech Council Spring Dinner
Tech Council members are invited to the Boston College Technology Council Annual Spring Dinner on May 12. Featuring keynote speaker Joseph M. Tucci, chairman, president, and chief executive officer of EMC Corporation, the event will be held at the Needham Sheraton. Reception at 6:00 p.m.; dinner at 7:00 p.m. The cost is $30. To register for the dinner, visit the Tech Council website. Registration deadline is May 5.
BC Supporters Abound at Volunteer Information Night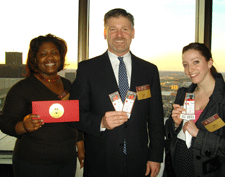 (From left) Nefertiti Lawrence '99, David Malone '96, and Julia Walsh '08 hold up their prizes—a gift certificate to the BC Club and Red Sox tickets—won at Volunteer Information Night.
The Alumni Association offers dozens of ways for alumni to stay actively involved as volunteers for their alma mater. Visit the volunteer website to view all the available opportunities.
On April 14, some 225 alumni and friends attended Volunteer Information Night at the BC Club to learn more ways to stay connected, engaged, and involved with Boston College. The event was part of the Light the World campaign effort to double the number of engaged alumni. View event photos.
Alumni in the News

Philip Gilpin, Jr. '03
Deb Hanewich '90 published a cookbook to raise money for the Dana-Farber Cancer Institute. More
Linda Katz, JD'78, co-founder of the Poverty Institute, will receive the 2009 Profile in Change Award from the Fund for Community Progress. More
Philip Gilpin, Jr. '03 is the founder of the International Green Shield, a nonprofit organization with a mission to protect people affected by harsh climates and natural disasters. More
More news stories about alumni
Travel Deals Available: 2010 Schedule Released

It's not too late to sign up for the following trips offered by the Alumni Association's travel study program: Dordogne (PDF), Italian Lake District (PDF), and South Pacific Wonders. Recently announced destinations in 2010 include: Egypt, Vietnam, Provence, the Mediterranean, Oberammergau, Tuscany, and South Africa. Discover more.
Men and Women for Others:
Hundreds Take Part in National Day of Service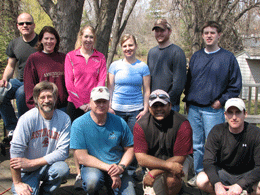 The Minnesota Chapter partnered with Wingspan Life Resources by doing spring clean-up yard work for two different group homes in Ramsey and Hennepin Counties. Back row (l-r) Tom White '89, Claire Edmondson '88, Meredith Bauer '03, Christine Ewald, Jason Steen '05, and John Lotzer '02; front row (l-r) Ken Edmondson, Warren Vollmar, Roshan Rajkumar '95, and David Giannino '01.
The Alumni Association's fourth annual National Day of Service was one of the best on record! The great efforts of chapter leaders and hundreds of alumni volunteers across the country produced some astounding results in the name of Boston College: 31 regions/chapters were involved; 38 projects/sites were visited; and more than 500 volunteers performed a total of well over 1,000 hours collectively. The fifth annual National Day of Service will be held on Saturday, April 17, 2010, so please mark your calendars accordingly! The Alumni Association thanks everyone involved for all the effort, hours, and service! Please send any photos, feedback, or questions to alumnichapters@bc.edu. In the June edition of Alumni Connections, more photos will be available and the designation of the Magis Chapter will be announced.
A Ringing Success: Wall Street Council Tribute Dinner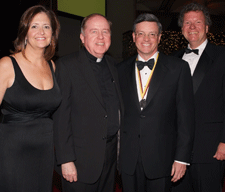 (From left) Wall Street Council Co-chair Kathleen Corbet '82, University President William P. Leahy, S.J., Alfred F. Kelly, Jr., P'09,'11,'13, and Wall Street Council Co-chair John V. Murphy '71, P'99,'09.
On April 23, more than 600 alumni, parents, and friends attended the 21st annual Wall Street Council Tribute Dinner at the Waldorf=Astoria in New York City. The evening raised more than $1.1 million for the Presidential Scholars Program and honored Alfred F. Kelly, Jr., P'09,'11,'13, president, American Express Company, with the President's Medal for Excellence. Event highlights included a video featuring presidential scholar alumni, and a speech by presidential scholar, Nate Keegan '09, who thanked the audience for their generous support on behalf of his class and the program. The following morning, the senior class of presidential scholars rang the opening bell at the NYSE. Read Nate Keegan's speech (PDF).